Wednesday, Jun 10, 2009
Author:       Jodi Picoult
Publisher:    Washington Square Press
ISBN:          978-0-7434-5453-7
Website:      www.jodipicoult.com
Type:         Fiction
Pages:        423 Trade Paperback

Purchase:    $9.60 @ Amazon.com (HERE)


The Story

Sara is a stay-at-home mother.  She has two children and a fireman for for a husband.  One day when her daughter, Kate, is taking her bath, her brother, Jesse, points out a bruise on Sara's back.  Not long thereafter, Sara has her seen by a physician who sends them to the hospital for further blood testing.  Much to Sara's disbelief, Kate is diagnosed with APL, a rare form of Leukemia with a very low survival rate.
Eventually, Sara and her husband, Brian, are faced with the fact that Kate will need transplanted cells to have a fighting chance at beating her disease.  Although they had hoped that Kate's brother, Jesse, would be a donor match for Kate, he was not.  It wasn't long before Sara and Brian sought the help of a geneticist to help creat a genetically matched embryo for implantation.  The result is Kate's new sister, Anna.  Anna's ambilical cord cells are given to Kate and Kate is put into remission for several years.
Due to Anna's genetic match to Kate, over time Anna supplies Kate with needed cells and bone marrow.  As she turns 15, her health takes a turn for the worse.  The result was renal failure and the need for a kidney from her sister.  Anna hires an attorney, Campbell, to fight for the right to be medically emancipated so that she is not forced to give her kidney to Kate.
The rest of the family's story unfolds for the reader as the face the courtroom and Kate's severely declining health.
The Review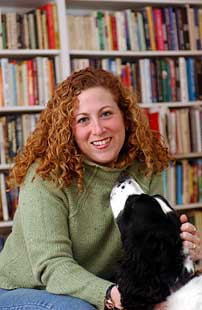 This Alex Award winning novel grabbed at my heart from the very beginning.  I think that perhaps this was a bit of a challenging book for me to take on with my best friend's daughter, Lainey Grace, undergoing chemotherapy for a blood cancer in San Diego.  Maybe this story was just too close to home.  However, I am a fan of Jodi Picoult's and have been looking forward to the movie and I very much wanted to read the book before viewing it.  I pressed on in my read.
This novel hosts several narrators, switching from Sara to Anna to Brian to Jesse to Cambell to Julie, the guardian ad litem for Anna.  Reading from each of the viewpoints of all involved in this story gives the reader the perspective from all involved and how difficult the decisions are that they face.  Kate's cancer has affected them all in such different, yet powerful ways.  The characters to this book are so expertly brought to life by Picoult that you not only understand them, but they become a part of your heart and mind.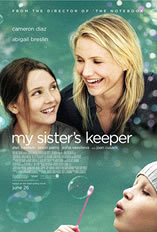 In my synopsis of the story above I am careful to outline only the beginning of the tale as the components of it are so powerful during the read that I am purposely trying to avoid spoilers.  This novel takes twists and turns and provides a very unsuspected ending that brought me to tears.  I knew that I had a fondness for Jodi Picoult's books, however I NEVER expected to be as moved as I was from this one.   
The publisher has released a paperback version of this book with the movie tie-in, therefore the cost of purchasing this book from Amazon.com is very reasonable at under $10.  I highly recommend this book if you have not read it.   As a mother, it will grab you in ways that you never expected it to.
On Sher's "Out of Ten Scale:"

This great novel deserved to win The Alex Award and I congratulate Jodi Picoult on her success, not only with this book, but with her others as well.  It must be incredibly exciting to see you book be transformed into a movie with such great actors to portray the characters that you so lovingly developed from your soul.  Not only am I going to rate this book a 10 OUT OF 10 but, I am also  going to pick up a couple extra copies for some special people in my  life.  There are a few sexually related scenes, however nothing graphic enough to prevent me from allowing the twins to read it.  Perhaps after they both read it they will appreciate their relationship much more… one could only hope.  
|
Posted in Books Books Books